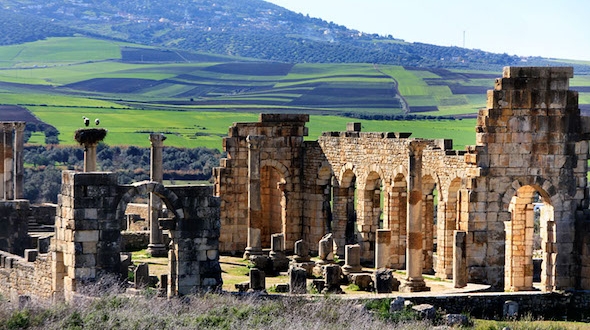 Morocco is home to the highest number of UNESCO World Heritage Sites on the African Continent. While the medinas of Fes and Marrakech are well known to many, two that you may not have heard of are included in Seven Skies' Morocco experience and well worth a visit.
The archeological site of Volubilis is just 3 hours from Casablanca and only 1 hour drive from Fes. It is an exceptionally well-preserved example of a large colonial town on the fringes of an empire at the turn of 11 AD, featuring not only the remains of public buildings and villas but also beautiful marbles and mosaics. In a word, astounding.
The historic city of Meknes was turned into one of the most magnificent cities of its age by Sultan Moulay Ismail, and was labelled the 'Moroccan Versailles' because of its extravagance. Surrounded by high walls, the Spanish-Moorish style of this impressive city reflects the grandeur of its creator. Passing through one of the nine monumental gates, you'll explore the city on foot to discover stunning mosques, gardens and palaces.
Experience Meknes and Volubilis & more on our Seven Skies Morocco Experience.
Contact us to find out more today.